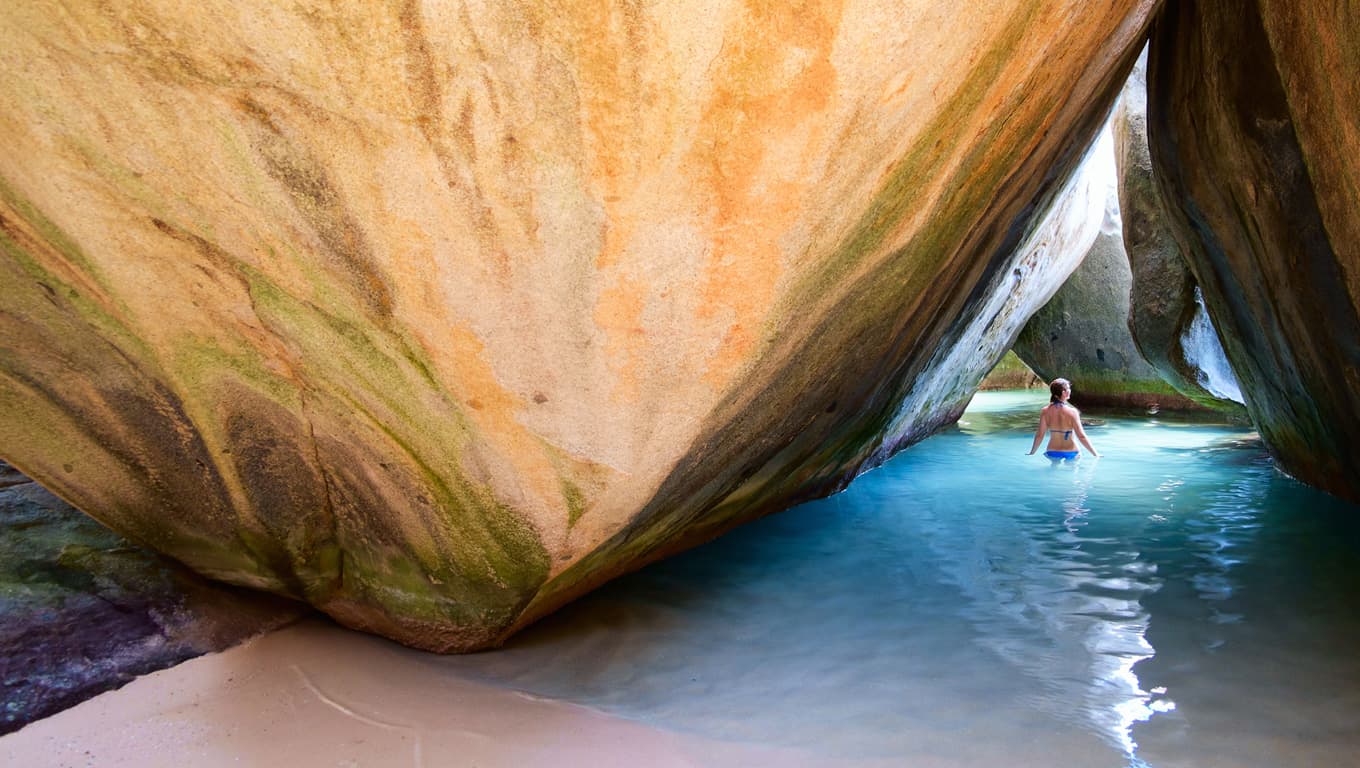 The British Virgin Islands are a departure from traditional romantic retreats. These islands are where nature's best secrets are kept, and the memories made while discovering them last a lifetime. Seemingly a world away from other Caribbean islands, the unspoiled nature of the BVI embodies the true romance of a private island escape.

Your love will surely bloom in the British Virgin Islands as you embark on a wide range of activities for two. Indulge in spa services, couples paddleboarding, kayaking and private wine tastings. Early risers can enjoy a hike to watch the sun rise over Gorda Peak National Park or a hand-in-hand stroll along deserted white powder sand beaches. Soar through Johnson's Ghut on a thrilling canopy tour, explore historical sites, or simply unwind and indulge in local fare from renowned restaurants and street side cafes.

Perhaps the best way to explore the British Virgin Islands is by bareboat or chartered yacht. The ease of travel between the BVI's 60 islands is unlike anywhere else. Adventurous couples can get their adrenaline rush on an island-hopping excursion onboard a chartered yacht, wake up with a morning swim off the coast of Jost Van Dyke, sail to Virgin Gorda to explore the natural wonders of The Baths, spend the day learning to scuba dive, snorkel and windsurf from local instructors, and end your day on Tortola with a private beach dinner and serenade under the stars.

As one of the Caribbean's most popular wedding and honeymoon destinations, whether you're looking to plan a simple ceremony or an ultra luxurious exotic getaway, the BVI's range of accommodations are perfect for romantic seclusion, a picturesque day ceremony or sunset celebration. Choices include stunning contemporary resorts, intimate boutique hotels, apartments, cottages and villas. Offering the utmost in luxury and privacy, the BVI also boasts the most private island resorts in the Caribbean. And for ocean-lovers, what's more romantic than an intimate celebration onboard a luxury yacht?
All-Inclusive Packages
Making the most of a wonderful experience, the BVI also offers several all-inclusive packages to ensure your island time is spent savouring the moment. Included in most wedding and honeymoon packages are complimentary dinners and drinks, spa services, and attentive concierges who can direct you to experienced photographers, caterers and florists to ensure your trip is seamless.

Getting married in the BVI is easy and your marriage licence is valid internationally. There's no need to wait, It's possible to get married in the BVI after just one day in town.

Calm seas, secluded beaches, a vibrant landscape, sweeping views of neighbouring islands, and year-round tropical temperatures make the BVI the perfect romantic getaway. Find everything you need for the ultimate destination wedding, honeymoon celebration or romantic retreat. It won't take long to find that the British Virgin Islands beauty and range of activities will far exceed your expectation.