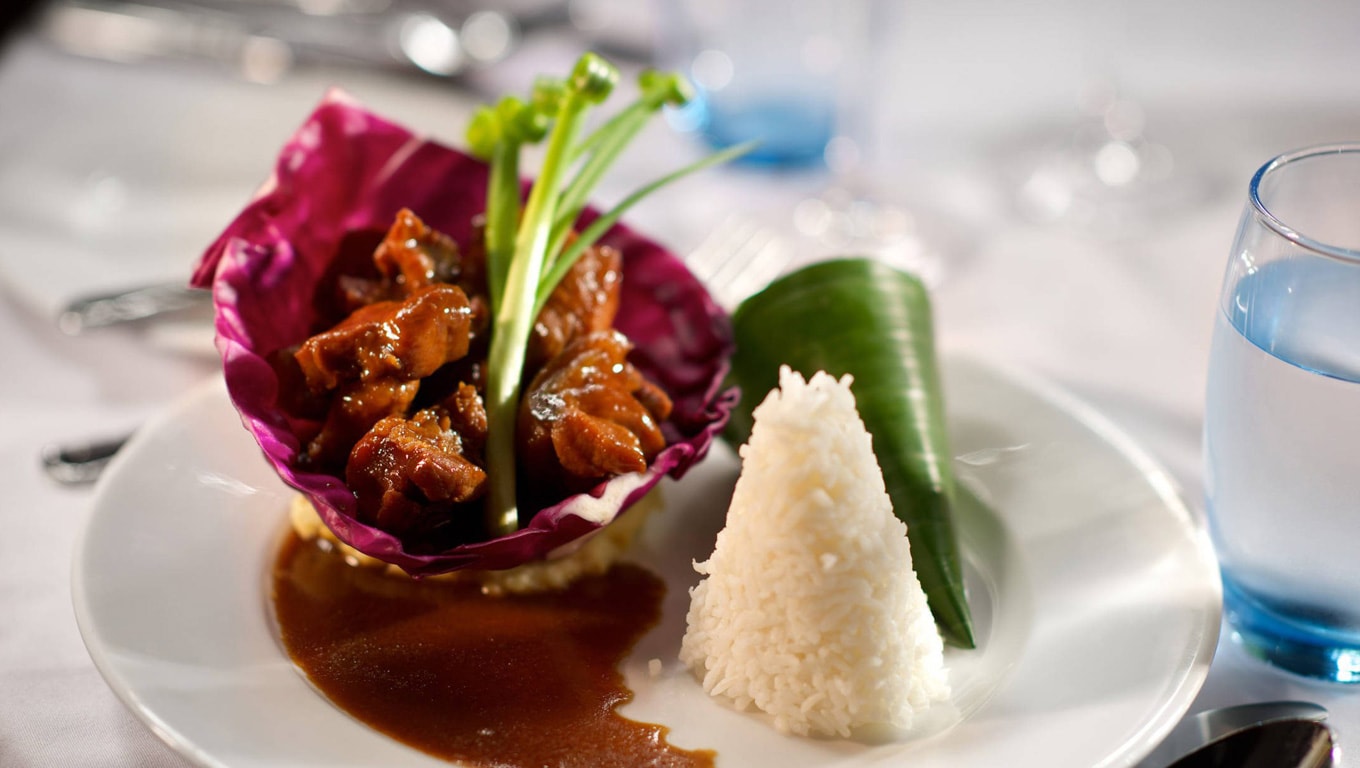 Dining Onboard Avalon Waterways
Avalon Waterways
From morning breakfast to late-night snacks, Avalon frees your taste buds from the ordinary. Using the freshest local ingredients, their talented chefs prepare mouth-watering recipes from the region through which you're travelling and present them in a variety of inspiring settings.

Whether you choose a breezy al fresco lunch at the Sky Bistro, an elegant four-course dinner in the glass-walled dining room, or a petite plate at the Panorama Bistro, you'll savour local flavours (and Western favourites should you crave them), as well as their Avalon Fresh menu offerings, throughout your vacation. On an Avalon cruise, every meal is part of the journey.
Dining Onboard Azamara
Azamara
At Azamara, the world is your oyster—and this oyster comes with internationally acclaimed ships ready to take you to some of the amazing destinations in the world. Their 690-guest club-like ships also take you to ports where larger ships won't fit, like in the heart of Marseille, Amalfi, and Crete, or even to the doorstep of Bangkok (while other large cruise lines dock a few hours away).

Once onboard, don't miss the Chef's Table, an exclusive dining experience pairing multiple delectable courses with perfectly matched wines. Choose from three wine degustation menus – Italian, French and Californian. Savour this intimate unforgettable journey through five beautifully presented courses, hosted by a senior officer or guest speaker. Their knowledgeable sommelier will provide helpful information throughout the evening and guide you through each carefully selected wine.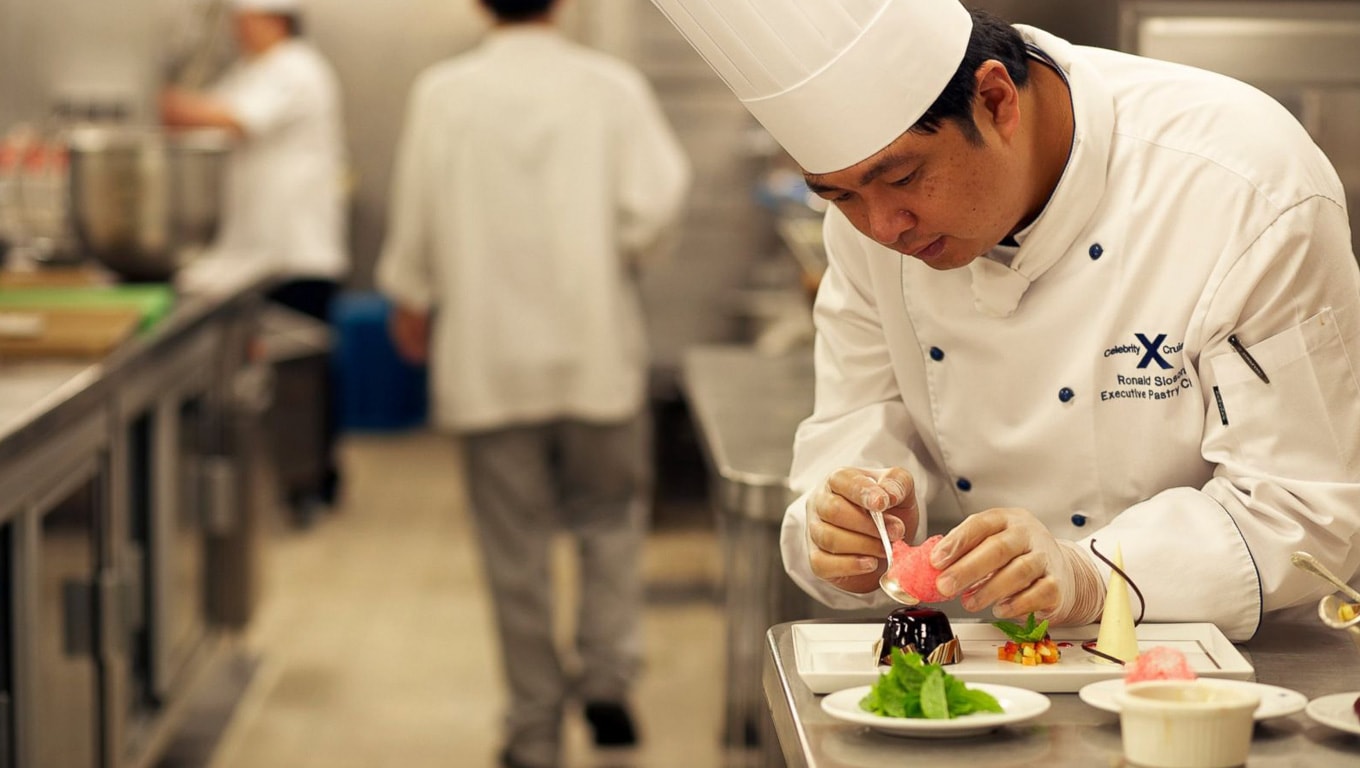 Dining Onboard Celebrity Cruises
Celebrity Cruises
On your next Celebrity cruise vacation, treat yourself to globally inspired, locally sourced cuisine, with menus crafted by our Michelin-starred chef. Imagine fresh salmon in Alaska, fresh snapper in the Caribbean, or fresh pasta in Italy.

Each evening, you'll choose from up to 12 distinctive restaurants including: Tuscan Grille, a traditional Italian steakhouse with modern artisanal flair; Sushi on Five, celebrating authentic Japanese specialties from a menu by master sushi chef; or Qsine, please all the senses with uniquely unordinary presentations and flavours.

Experience the cultures, flavours and aromas of your exciting destinations with our Chef's Market Discoveries. On these award-winning shore excursions, you'll join Celebrity chefs for outings to local markets and restaurants. Taste fine wines, explore fresh ingredients and learn valuable secrets to employ in your own cooking. Back on board, you'll experience a private dinner inspired by the day's discoveries.

Cocktails, cuisine, wine and more—it's no wonder that Celebrity Cruises has won multiple best-dining honours. Celebrity Cruises. Sail Beyond Borders.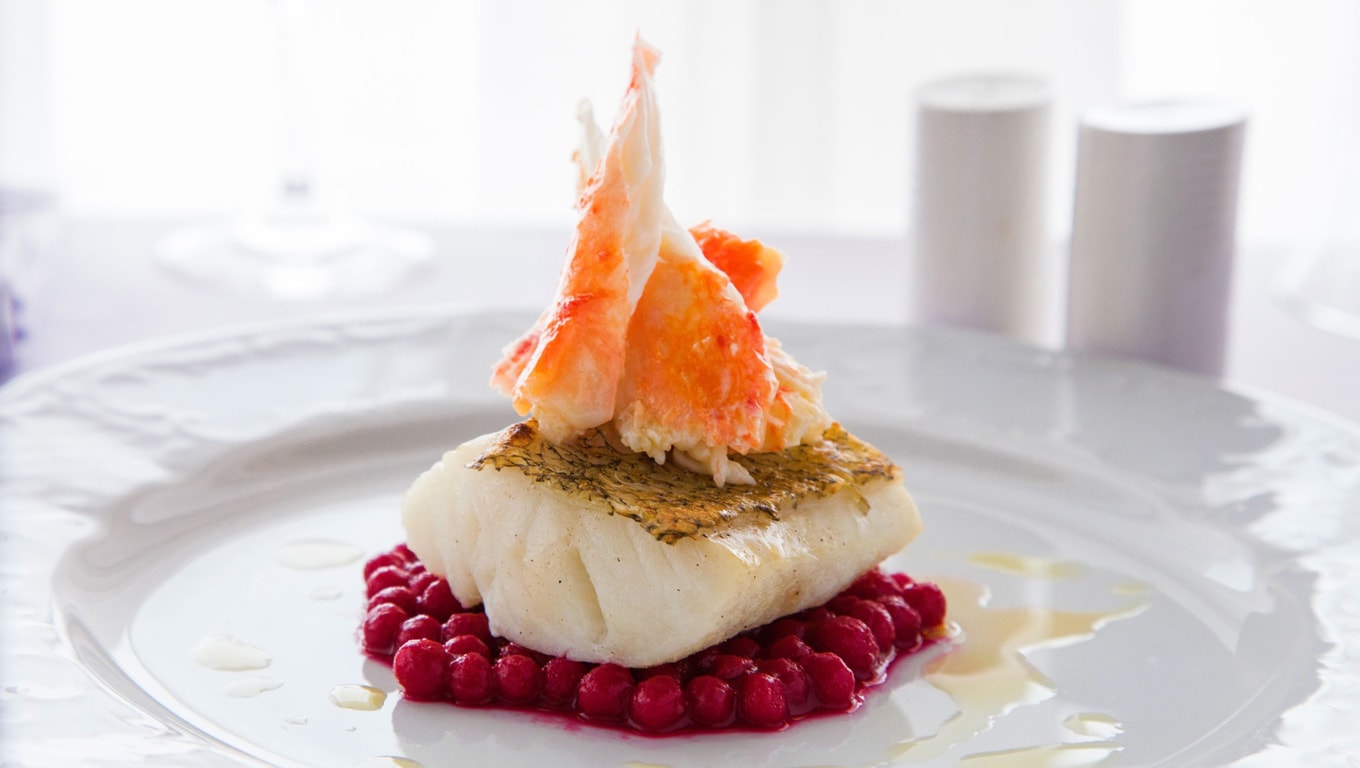 Dining Onboard Crystal Cruises
Crystal Cruises
Some of the most alluring aspects of travelling the world – particularly travelling the world aboard our Crystal ships – are the delectable cuisines and flavours that expand your palate and understanding of global cultures. It's for this reason that our annual Wine & Food Experiences of Discovery voyages have long been among the most popular sailings, combining our own culinary teams' expert talents with those of guest chefs. Sommeliers and masters from around the world. Our guests enjoy onboard cooking demos, hands-on galley instruction, tasting and pairing sessions, and specially crafted menus that showcase the signature dishes of the guest experts. With selections of small bites and snacks changing daily, multi-course feasts, and indulgent desserts that highlight the regions the ship visits.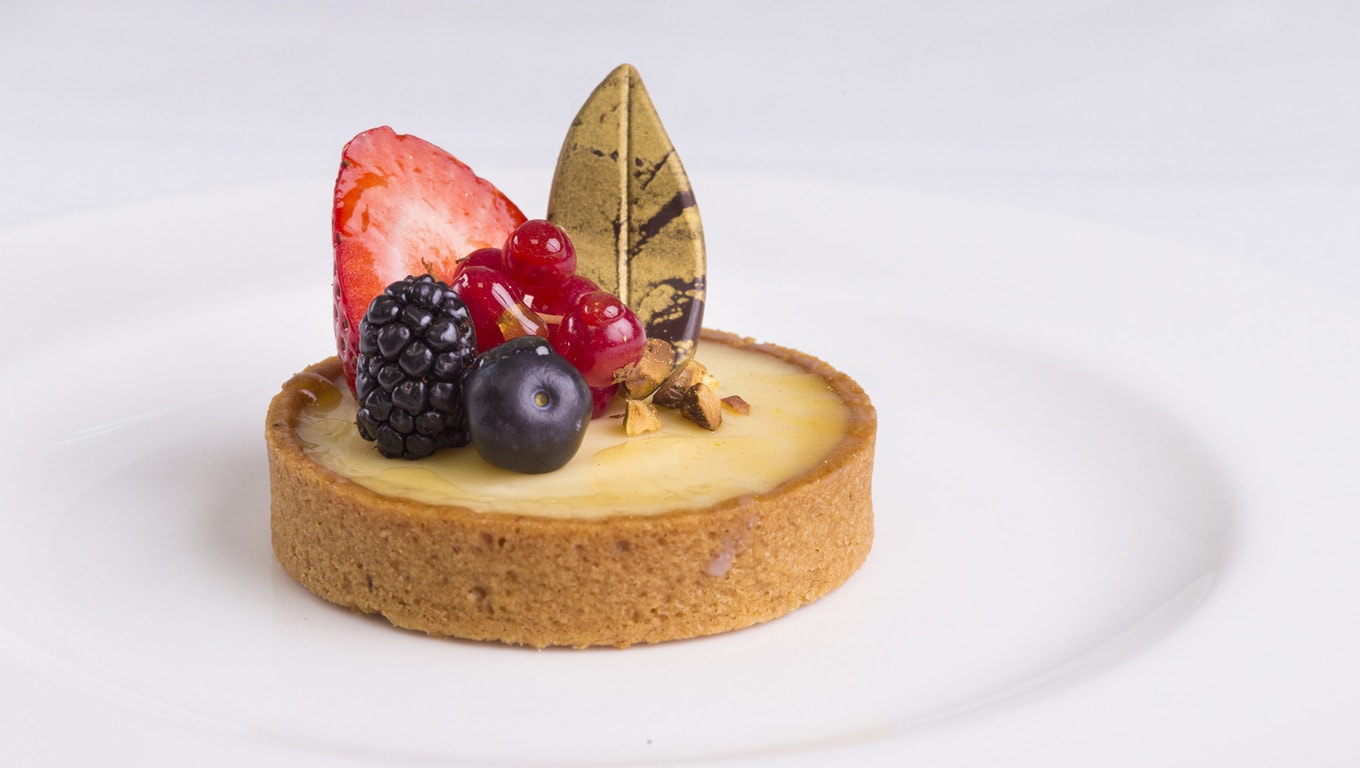 Dining Onboard Cunard Line
Cunard Line
For more than 177 years, the majestic Queens of Cunard have voyaged the world on epic sailings of exploration and enlightenment. Experience the elegance of illustrious British traditions while sailing in luxury on a grand scale with the most celebrated ships in the world.

Already renowned and acclaimed for creating some of the finest cuisine served in the most glamourous surroundings at sea, Cunard is introducing new dining options as well as a raft of enhancements to each of the liner's existing restaurants. Menus in the Britannia Restaurant and Golden Lion pub, together with Cunard's famous Afternoon Tea selection served in the Laurent Perrier Champagne Bar, have all been refreshed to create a stunning new culinary experience.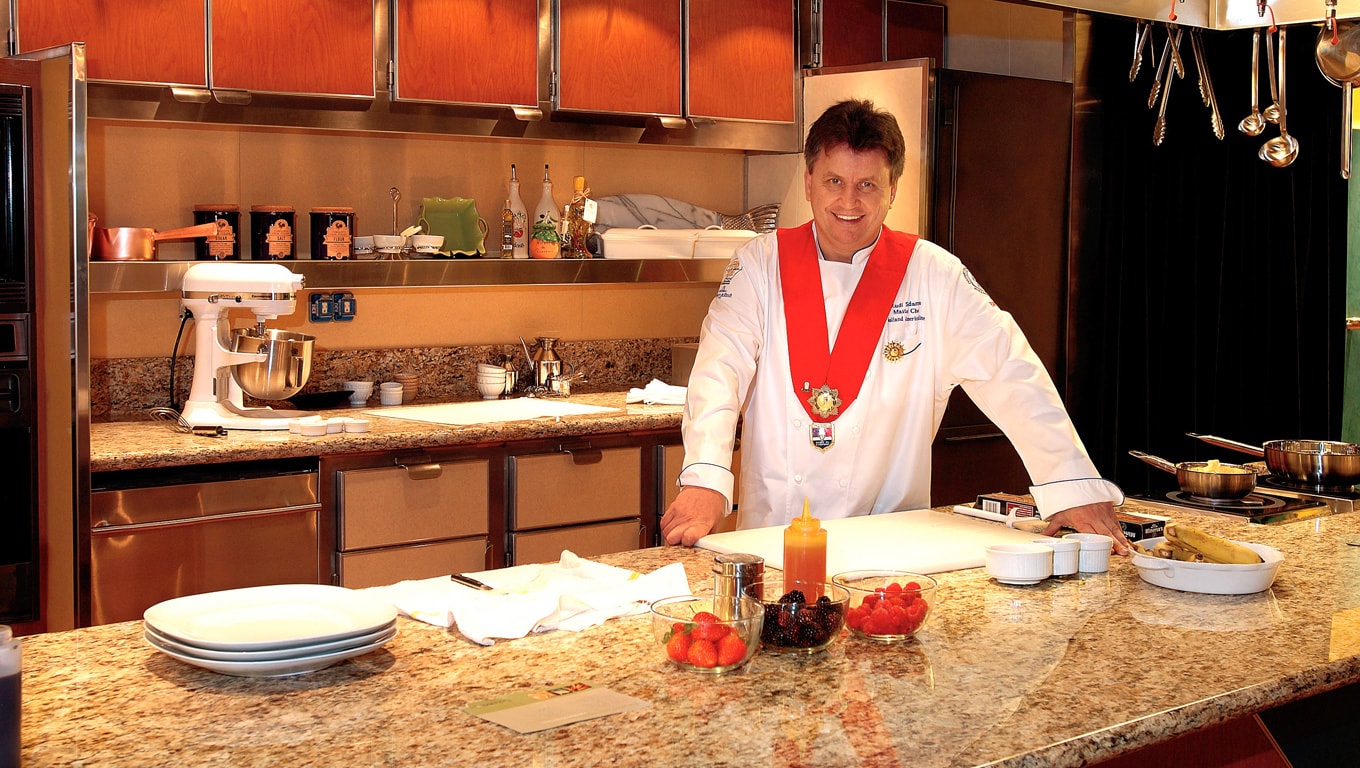 Dining Onboard Holland America Line
Holland America Line
Explore a range of delicious onboard dining options — everything from a Dive n gourmet burger by the Lido Pool to the authentic Italian spartire (sharing) style Canaletto, to the ultimate in refined luxurious dining at the Pinnacle Grill.

Holland America Line's Master Chef and Culinary Council Chairman, Rudi Sodamin's Sel de Mar (sea salt in French) is an intimate, al a carte seafood brasserie offering a contemporary twist on French seafood classics. Now available onboard Koningsdam or as a pop-up restaurant on six ships.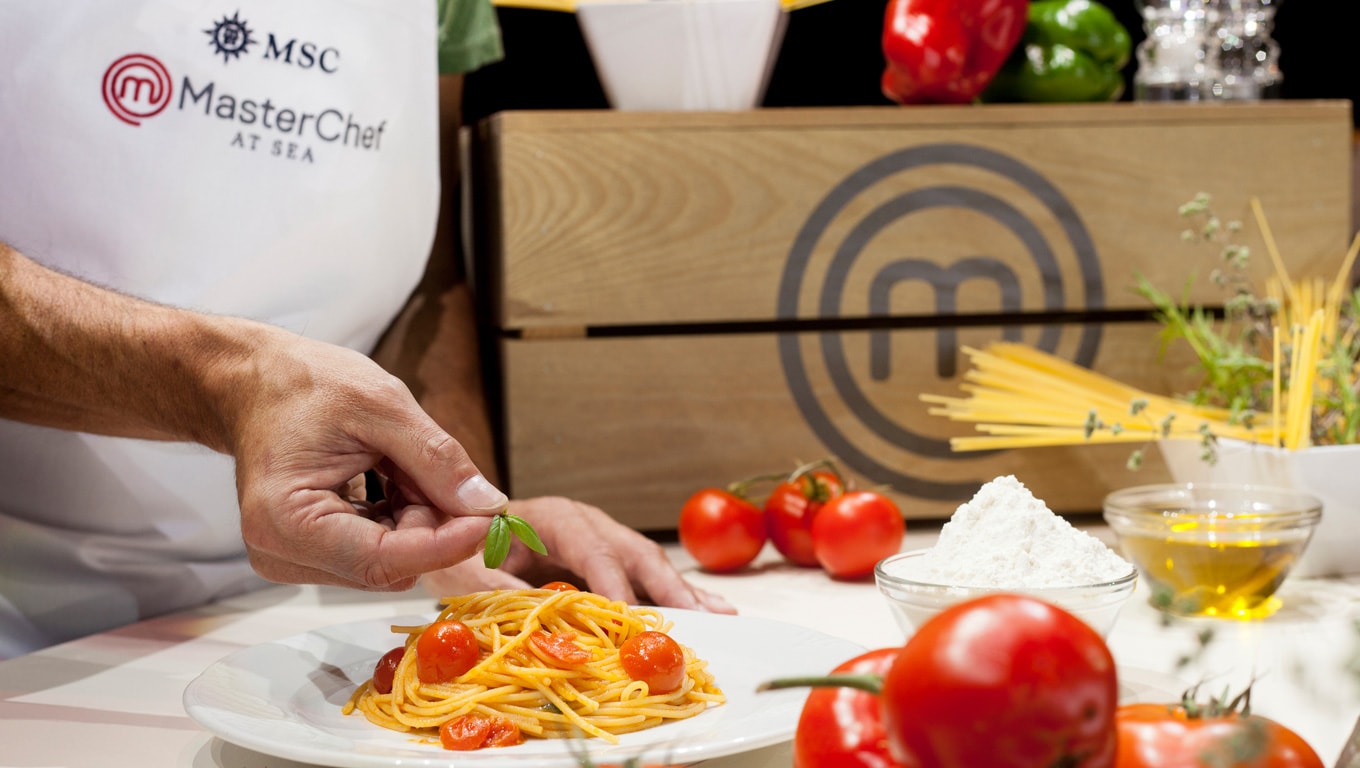 Dining Onboard MSC Cruises
MSC Cruises
Mouth-watering innovations are at the heart of every masterfully created dining adventure. From surf to turf and Asian-inspired specialties to French cuisine with join du vie, a tempting array of four delectable culinary favourites await on MSC Seaside at Ocean Cay, Butcher's Cut steakhouse, Asian Market Kitchen by Roy Yamaguchi and Bistrot La Boheme.

Across the ocean, the ultimate in world-class entertainment and dining converge in one spectacular evening. Be captivated by a Cirque du Soleil At Sea show, exclusively designed for MSC Meraviglia, highlighted by an exclusive table d'hote menu, featuring eclectic pre-show prix fixe and three-course selections. This memorable venue will tantalize the senses with artistic menus specially designed to complement the show experience.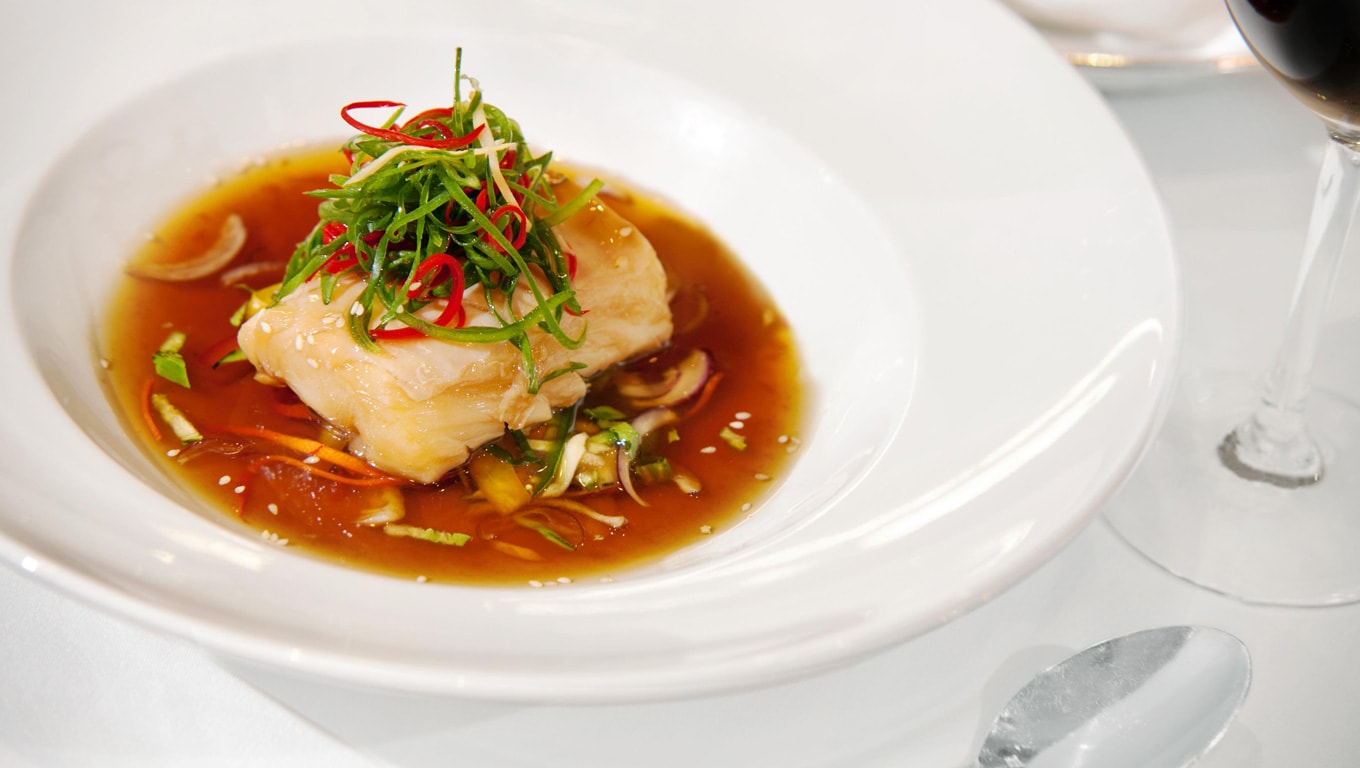 Dining Onboard Oceania Cruises
Oceania Cruises
As you sail from one captivating destination to the next. Oceania Cruises' commitment to culinary excellence shines from beginning to end. Garnering countless accolades, their gourmet culinary program begins with sourcing premium artisanal ingredients from around the world, from prized Castilla-La Mancha saffron to fine French flour custom-milled to exact specifications.

Of course, their distinguished chefs, selected from the world's best restaurants, are the true masters behind the magic of their cuisine. Every recipe has been proudly crafted by this talented and innovative team, and each dish is a study in age-old culinary technique and tradition.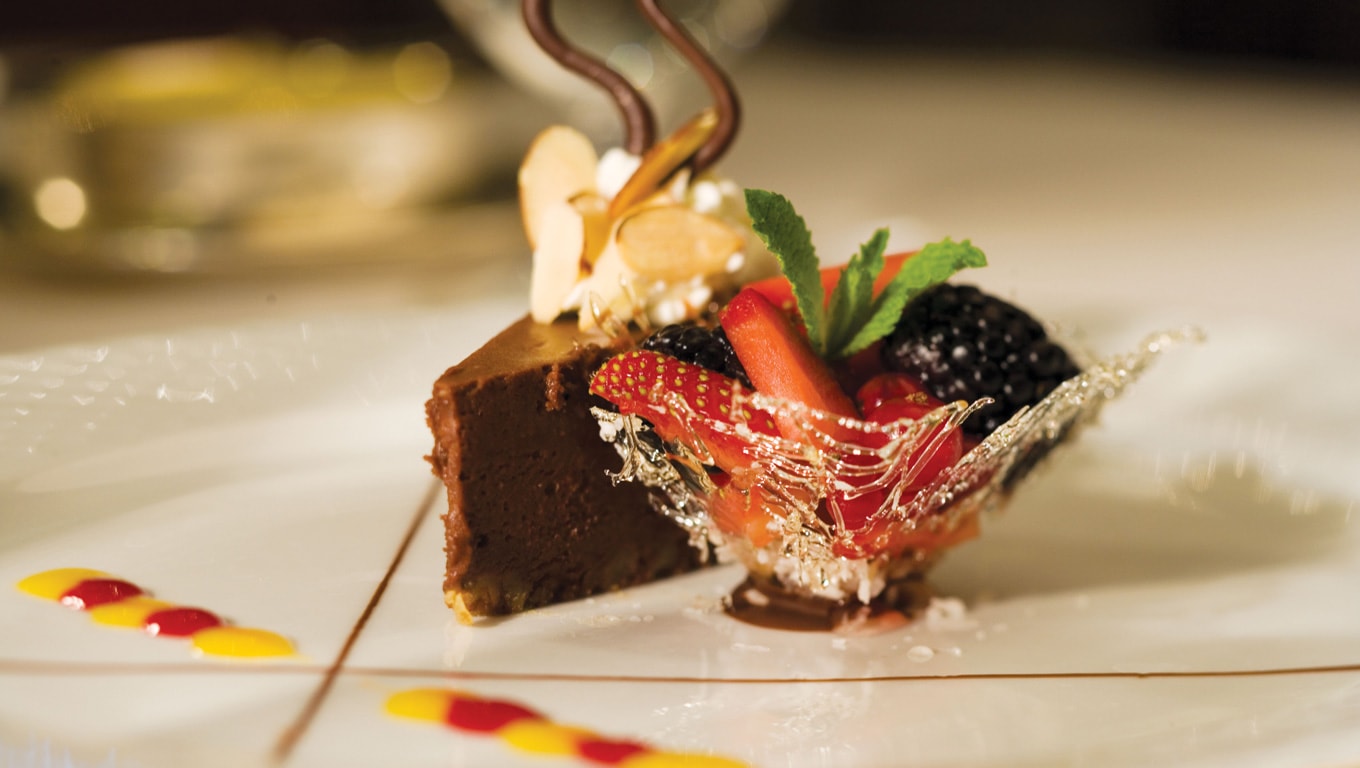 Dining Onboard Regent Seven Seas Cruises
Regent Seven Seas Cruises
A variety of specialty restaurants—under the careful direction of highly trained chefs—offer cuisine that incorporates local ingredients to ensure each meal is authentic, satisfying and diverse. Whether you dine al fresco at Sette Mari at La Veranda for Italian favourites, customize your own dish at Compass Rose, delight in a casual lunch at the pool grill, savour modern French cuisine at Chartreuse, or choose a fine dining setting at elegant steakhouse, Prime 7, all meals and beverages, including premium wines and spirits, are included. Cruising has never tasted so good.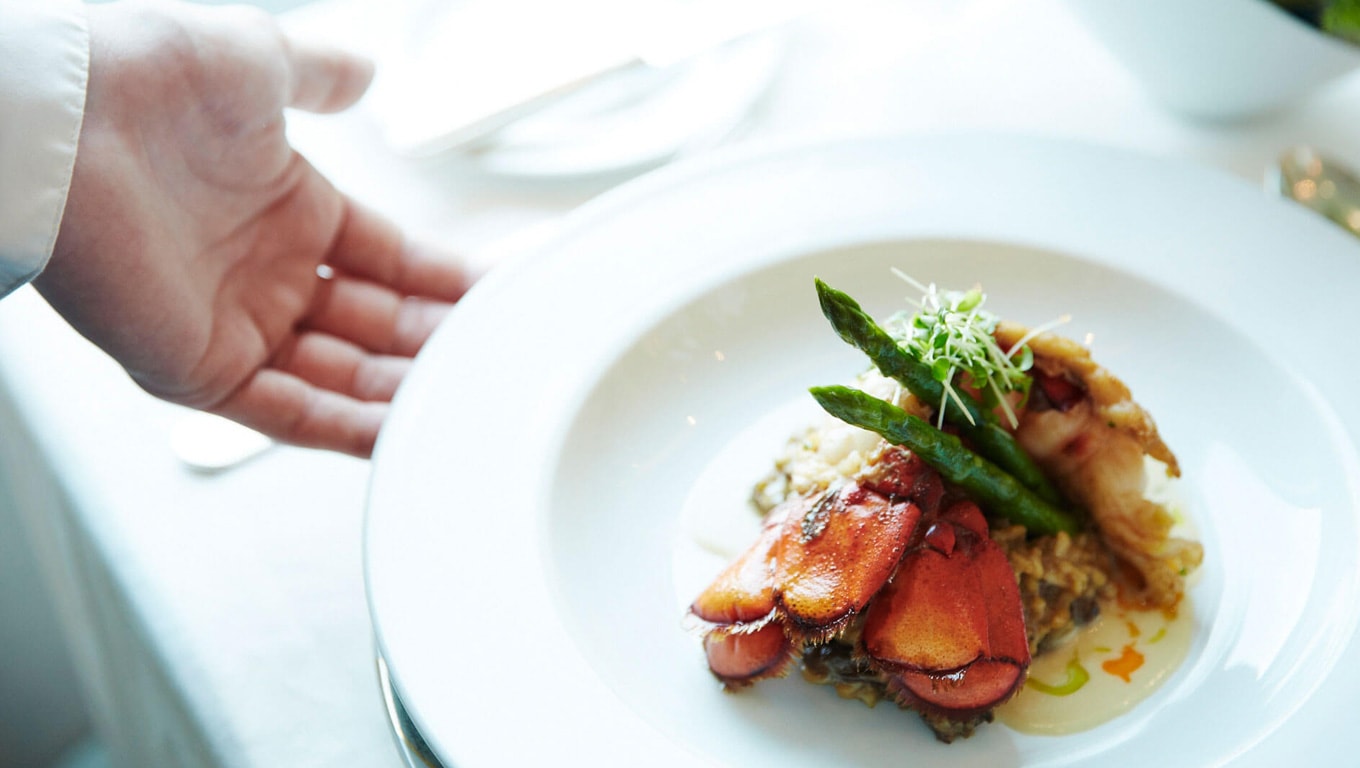 Dining Onboard Seabourn Cruise Line
Seabourn Cruise Line
In our ongoing quest to provide you with the world's finest travel experiences, Seabourn has partnered with the world-renowned American Chef Thomas Keller, the chef and proprietor of The French Laundry, Ad Hoc, Bouchon, Bouchon Bakery and Per Se. Chef Keller is the first and only American-born chef to hold multiple three-star ratings from the prestigious Michelin Guide, as well as the first male American chef to be named a Chevalier of the French Legion of Honor, the most illustrious decoration in France.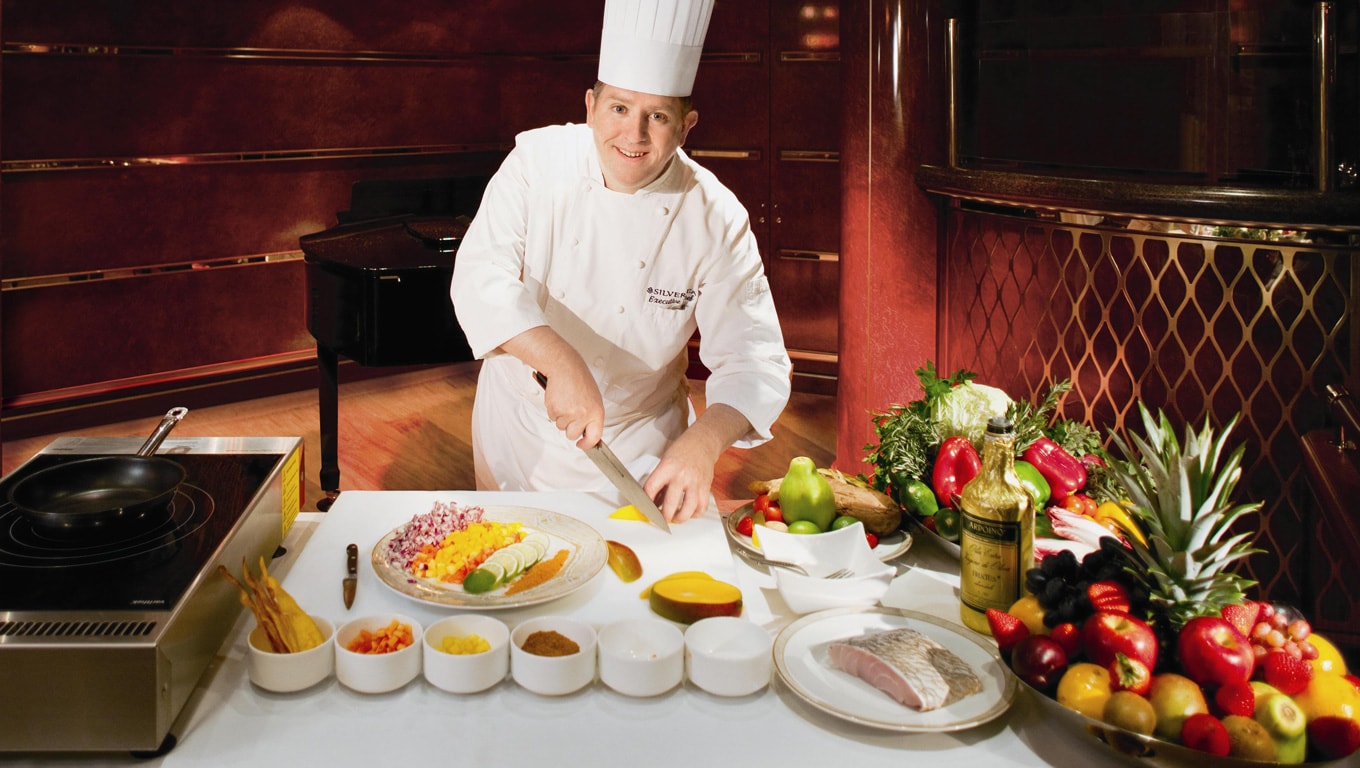 Dining Onboard Silversea Cruises
Silversea Cruises
With the importance of food in Italian culture, you would expect dining to be a high priority at Silversea. And it most assuredly is. Moreover, gastronomic excellence is a given, thanks to Silversea's partnership with the prestigious Grands Chefs Relais & Chateaux.

No matter where you dine, their influence is readily apparent in the great diversity and freshness of your selections. And every ship also features a diversity of dining venues. The main dining room, The Restaurant, is an open-seating venue where you can dine whenever you please, and where impromptu dinners with new-found friends is a matter of course. After all, with Silversea's worldly crowd of international travellers, socializing is one of the things people love most about these luxury cruise ships.